Mixed Method Books
---
The Oxford Handbook of Multimethod and Mixed Methods Research Inquiry
Edited by Sharlene Hesse-Biber and R. Burke Johnson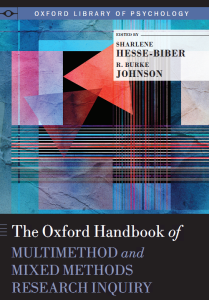 The Oxford Handbook Multi and Mixed Methods Research Inquiry is designed to offer a range of innovative knowledge building perspectives and methods tools with the goal of enchancing new ways of asking and addressing complex research question. The Handbook offers multiple quantitative and qualitative theoretical and interdisciplinary visions and praxis. Each chapter is written in clear and concise language by leading scholars in the field.
Mixed Methods and Credibility of Evidence in Evaluation: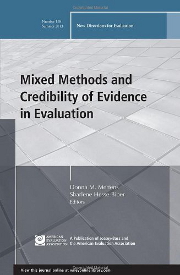 Mixed methods in evaluation have the potential to enhance the credibility of evaluation and the outcomes of evaluation. This issue explores advances in understanding mixed methods in philosophical, theoretical, and methodological terms and presents specific illustrations of the application of these concepts in evaluation practice. Leading thinkers in the mixed methods evaluation community provide frameworks and strategies that are associated with improving the probability of reaching the goals of enhanced credibility for evaluations, the evidence they produce, and the actions taken as a result of the evaluation findings. This is the 138th volume of the Jossey-Bass quarterly report series New Directions for Evaluation, an official publication of the American Evaluation Association.
Mixed Methods Research: Merging Theory with Practice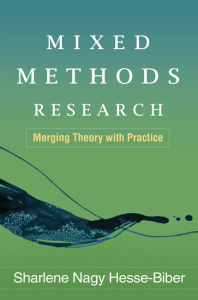 This accessibly written book is ideal for use in graduate courses or by practicing researchers and evaluators. The author puts the research problem at center stage, showing how mixed methods designs can fruitfully address different types of research questions. She illustrates the discussion with examples of mixed methods studies from a variety of disciplines and qualitative approaches (interpretative, feminist, and postmodern). The text demonstrates how to navigate ethical issues; gather, analyze, and interpret data; and write up the results, including an in-depth example with step-by-step commentary. Special features include "researcher standpoint" reflections from leading scholars and practical strategies to help users develop their own research perspectives. Every chapter concludes with a glossary, discussion questions, and useful Web resources.